Juice your phone off the grid with these solar, wind, bike, crank and heat mobile chargers
5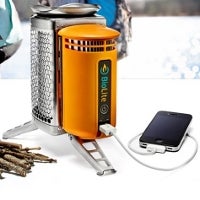 Despite all the claims from their manufacturers, solar charging cases or back covers are just not there yet in terms of providing anywhere near enough juice for even casual smartphoning, as our
solar case review
showed, but they are getting slimmer and would do for an emergency situation or two.
There are, however, other options for off the grid charging of your phones and other gadgets, like larger solar panels, devices harnessing both solar and wind power, or the kinetic energy from yours or your bike's movements. Even heat-generated electricity might come in handy if you are in the boondocks somewhere, starved for a 911 call or an Angry Birds session.
We are rounding up
one more time
some of these new alternative off the grid chargers for you in the slideshow below, for when the next hurricane Sandy strikes, or the zombies finally attack.
Juice up your phone off the grid with these solar, wind, bike, crank and heat mobile chargers