Google Reader is ready to be installed on your Android phone as a native app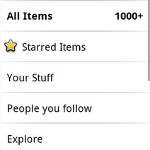 Google has finally made an official Android app for its Google Reader. The native application will bring RSS feeds to your Android handset and will allow you to sync with the Google Reader on your PC at home. Anything you can do with the desktop version of the program, you can now do on your Android phone like sharing stories, "starring" them, and taking notes.
The Official Google Reader app is now available from the Android Market for free. We have installed it on a Motorola DROID and have found it just as easy to use as the desktop version while syncing up with the PC was a snap. Sites are listed alphabetically at first and then you can change it to match the order on your desktop computer.
source:
Google