Could this be the Apple tablet?
12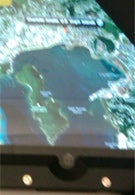 Here's probably the last unofficial leak about Apple's tablet, as we'll (almost) surely get to know everything about it in a few hours. Anyway, here are some blurry images of what's said to be the tablet (
iPad
,
iSlate
,
iTablet
, whatever…) and what we can see on one of the pics is an iPhonesque interface, with indicators for wireless service and Wi-Fi at the top. Of course, we won't hurry up and draw the conclusions just yet. Additionally, Engadget reports that according to some information (unofficial, as you may guess) they have received, the device should have a netbook-like 10-inch display, aluminum back and will cost $800 on Verizon (lol!) and $1000 retail, when it gets released in March. So, that's it for now guys, we'll post again about
Apple's latest creation
in a while, so stay tuned!
source:
Engadget