Chipworks tears down the Galaxy S7 edge, exposing interesting CPU and camera findings
56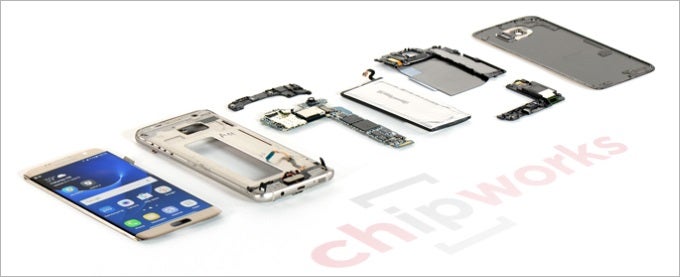 After the Galaxy S7 got the celebratory teardown treatment, its now its dual-edged bigger brother's turn to lay on the dissasembly table. Canadian chip detectives Chipworks have gotten their meddling hands on the Galaxy S7 edge and are digging into its components as we speak.
Unlike other teardown websites which disassemble gadgets to rate their repairability, the guys at Chipworks are obsessed with figuring out every last chip and component's origin, which makes their output all the more interesting, but also time-consuming. Therefore, their work happens in stages. So far, so good, Chipworks has managed to take some brilliant shots of the GS7 edge's internals and has come up with interesting observations on the smartphone's camera setup and other components involved.
Chipworks also took their turn at explaining the 12MP camera's Dual Pixel Phase Detection (PDAF). Dual pixel phase detection autofocus (PDAF) technology! Canon pioneered this concept in 2013 with its EOS 70D DSLR. 80% of the 70D's active pixel array is dedicated to the Dual Pixel CMOS auto focus functionality. It has now been adapted to mobile camera chips, with 100% of the 12 MP active pixel array dedicated to sensing and providing data to the auto-focus system.
"What is impressive about the new dual pixel feature is the chip design team's ability to roll out this technology in a 1.4 µm pixel generation. Canon's DSLR system used 4.1 µm generation pixels."
– Chipworks notes.
There are other interesting observations, too. Apparently, Samsung adopted their own S6SMC41X touch screen controller (TSC) in their own phone for the first time. Chipworks first saw it in Chinese brand Doov's L5Pro phone a few weeks ago. Curiously, though, the LPDDR4 RAM memory is supplied by Hynix, rather than Samsung's own and very successful LSI division. It's probably Samsung Mobile differentiating suppliers, rather than relying on Hynix as the sole provider.
Chipworks also confirmed the Qualcomm Snapdragon 820 chipset carries the model number 'MSM8996', and noticed
"a large increase in the interconnecting solder bumps"
between the chipset and RAM memory (assembled in a package-on-package format) which could be due to the higher memory bandwidth and/or heat dissipation concerns.
The nimble Canadians will be updating their publication as they get other sections of the Galaxy s7 edge examined, so check out the source link below for the full story and images. This is excellent work on Chipworks' part and we'll be watching its ongoing development with interest, along with many of you!
source:
Chipworks