Brazilian court orders suspension of WhatsApp
8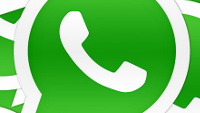 A judge in Brazil has decided to order a suspension of WhatsApp because of the messaging app's refusal to help the Brazilian law-enforcement authorities with a case. According to an anonymous source, the case involved "
sexually graphic photos of children on the app
." Because the Facebook-owned company does not have a Brazilian office, the court order was presented to wireless operators.
SindiTelebrasil, an organization that represents Brazilian carriers, cautions that the court's suspension could result in losses for millions of Brazilians who depend on the application professionally and personally. While Judge Luiz de Moura Correia ordered the suspension earlier this month, the app continues to run normally in the country because an appeal was filed.
WhatsApp would not comment on the court order. Last year
Facebook purchased WhatsApp for $22 billion
.
source:
TheGuardian