Best new Android, iPhone and Windows Phone apps for July 2013
10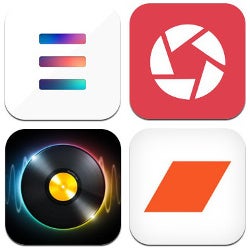 Another month, another set of new apps... or is it so? Not so mundane - July 2013 marks the moment when
Android's Google Play outgrew the Apple App Store
for the first time and officially became the world's largest app marketplace and chances are it will keep growing its lead.
Most importantly, though, we are increasingly starting to see truly amazing applications that excel in both design and functionality appear on mobile. 2013 seems to mark a point in time when smartphones truly start becoming a commodity and the conversation shifts to more than just specs - to new form factors, sensors, capabilities and of course applications.
Right below, we have a pretty stellar selection of the absolute best applications on Android, iPhone, iPad and Windows Phone. We tried to pick something for everyone, but this time we gave in to our geek nature and you'd notice that a larger percentage of the apps are pure nerd joy. Have you seen some other awesome new apps that we missed? And which of the ones listed below you like the most?
Android apps: #1 to #12
iOS apps: #13 to #24
Windows Phone apps: #25 to #35

Best new Android, iPhone and Windows Phone apps for July 2013