Best Android camera, photo editing and video apps
15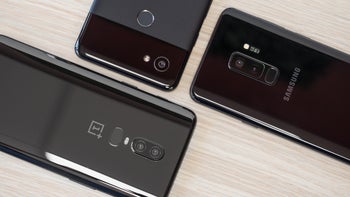 With some 2.6 million apps on the Google Play Store, Android users would think that there are many awesome camera apps to make the best of their smartphone cam. Anyone who has ventured in a search for a great Android camera, photo, or video app, however, is inevitably faced with a plethora of low-quality apps with horrific last-century design and questionable stability and functionality.
But this doesn't mean there aren't any good Android camera apps. We've done some digging and we've singled out the ones that add to your phone something it might be missing out of the box. So, with no further ado, here are the best Android camera photo and video apps!
CAMERA APPS
VIDEO
OTHERS
Camera MX is one of the best camera apps around, and best of all ― it's free! Well, there are some filter packages you can buy separately, but even without them, the app offers plenty of features. One of them is called "Live shot" and lets you capture a few seconds which you can then turn into a GIF. And if you activate the Shoot-the-past mode, you'll be able to go through the last few seconds of what your camera saw before you took a picture, letting you select the best frame available – a very handy feature if you were capturing something fast-paced like a friend jumping in a pool, for example.
Open Camera boasts everything a manual shooter would require from an Android camera: manual shutter speed, manual focus distance, manual ISO, manual white balance, and manual exposure compensation. The app has the most popular filters: sepia, black & white, negative, but won't bother you with the more freaky ones you might find elsewhere. It has more than enough scene modes to choose from, helping you easily take the best shot possible. To top it off, Open Camera allows you to trigger the shutter by saying "cheese", pretty nifty!
Bokeh is not an easy effect to achieve using a smartphone, which is why it's so marketed as a premium feature. While stock camera apps add the effect when you take a photo in portrait mode, and maybe allow you some adjustments right after that, with AfterFocus you can add bokeh to any picture you want, no matter when or how you took it. To do that, first, you'll have to put some manual work into it. AfterFocus has a "smart" function that lets you separate the object you want in focus from the background relatively easy, but if you want a perfect result, you can do everything yourself. Once you've defined each zone you can start applying different effects and adjust them until you're happy with the result.
VSCO is an app by the Visual Supply Company, a firm known for developing some of the best film-emulation filters for Adobe Lightroom, and it's no surprise that this expertise has resulted in a collection of some amazing filters that you can get in VSCO. The beauty of VSCO's filters (or presets rather) is in the subtle measure of the artistic effects that will help you get a sense of the right amount of touch-ups needed for a photo, and also help you avoid overediting your images.
The full preset pack costs $5.99, and while you have some free presets, the app starts to truly shine when you unlock the potential of all the presets. VSCO also allows you to edit the strength of each filter, as well as edit all aspects of an image non-destructively. Apart from its filters and effects, VSCO also comes with a 'journal' with ideas for shooting, and the app gets the job done as a camera replacement.
Snapseed stands out with its extremely intuitive and touch-friendly interface, allowing you to tweak every aspect of an image with a precision and ease that no other mobile image editor can offer. One of the few things we didn't like is the lack of Undo button when you're using a tool. You have to discard everything done with it and star over if you make a mistake.
Regardless of those minute shortcomings, it remains the most feature-rich editor out there and it's completely free, unspoiled by any kind of in-app purchases or other bloat.
As the name suggests, Photoshop Express is a version of Adobe's popular photo editing product meant to give you a quick and easy way to improve your pictures right on your phone. Besides the usual color/brightness/contrast adjustments, this app has some advanced cropping tools that let you choose an aspect ratio based on where you're planning to use the picture, for example, Facebook Page Cover, Twitter Header, YouTube thumbnail and so on. Furthermore, you can bedazzle your photos with all sorts of effects, clipart pictures and frames, then finish the whole thing off by adding a wise quote, as is tradition. It will take a while to mention every feature this app has, so why not try it yourself? It's free!
What does Lightroom for Android allow you to do, exactly? A lot of its features are similar to Photoshop Express, but it adds the option to take and edit photos in RAW format. It also automatically syncs your photos between different devices running Lightroom, so you can easily switch between editing platforms. While the app is free, if you want to make use of the more advanced tools it offers, you'll have to upgrade to a paid monthly plan.
KineMaster comes with a multitrack video timeline, giving you the option to drag and drop content as you wish. You can also import multimedia files from your phone or record on the spot and take advantage of KineMaster's ample editing tools and transition effects to edit each clip. Cut, slice and splice your videos to create the perfect combination of clips, and use any of KineMaster's diverse themes, animations and visual and audio effects to add some extra dimension to your project. Once your project is complete, you have the option of saving in various resolutions, up to 1080p, as well as sharing your video with your friends and family. The app is free as long as you don't mind having a "Made with KineMaster" watermark (it's relatively small and unintrusive) on your videos.
While HD Camera Pro can be used for both pictures and videos, its main advantage is that it allows you to take a full manual control over video recording quality in particular. You can choose your resolution, frame rate, maximum duration of the video or the size of the file. The app lets you choose the source for the audio if you want to use an external microphone. But the most valuable asset of HD Camera Pro is the option to select a higher bitrate for video, topping at 100Mbps. Our only gripe with this app is that ads are sprinkled quite generously throughout it, but hey, developers have to earn money somehow, right?
Framelapse has grabbed our hearts with its simple, straightforward interface that makes it extremely easy to create time lapses. It outputs video in crispy 1080p, and allows you to tweak things like frame interval, as well as exposure and focus locking.
Blending images is a process that achieves some amazing creative effects, and Superimpose is our favorite app to blend pictures with. While there are many apps that do the same job, Superimpose comes with excellent masking tools that allow you to mask out unwanted part of the foreground image.
A cool single-purpose app, Fragment adds a hipstery prismatic effect to your images turning them, inserting alien-like structures that add a twist to even most mundane of shots.
Taking selfies on your smartphone is an obsession that is not going away ― in fact, we're getting better and better front cameras making those shots look better. But in order to make yourself look your best, Facetune is a perfect app that does not just add an ugly overly smoothening filter to your face making it look as if it belonged to a plastic doll. If you're into good looking portraits, Facetune is a good app to try.
This app does one thing and one thing only. That thing is adding the so-called "tiny planet" effect to your pictures or taking ones with it already applied. There are a few sliders that let you fine-tune your tiny planet for the best possible result. Is it something you can go without? Sure. Is it fun to experiment with? Absolutely!
Mirror Photo Editor has enough effects to make your picture indistinguishable from the original but in a good way. The focus of the app might be on mirroring photos in various configurations, but it offers plenty of other ways to customize your images. And while all the included features can keep you busy for a while, you'll have to deal with more ads than you usually get on a free app.