iOS 6 comes with gay and lesbian emoji
99+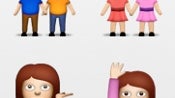 Emoji, the phenomenon of a picture expressing emotion (emoji is literally a combination of "e," Japanese for picture and "moji" for emotion) took over the world from Japan, and with the goal of the pictograms being to animate our life, now they are becoming even more realistic as Apple adds a lesbian and gay couple along with the funny faces, the monkeys and the aliens.
The new set of emoji is available in iOS 6, but you can access the emoji keyboard now as well by hitting Settings -> General -> Keyboard and adding emoji.
After you've done this, the globe bar when you type will allow you to switch to the pictograms. There you'd also find the Sanzaru monkeys (aww, right?) and we leave it all up to you to decide how to use those!