Watch a few phones be drilled, twisted, cut in half, and set on fire, all in the name of the holiday spirit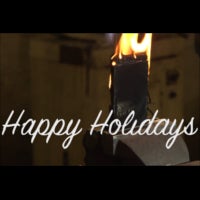 'tis the season to be jolly. Probably that's the reason why Engadget posted a video of a number of phones being absolutely destroyed, accompanied by the soothing melody of an angelic choir. The clip is called "Don't like what Santa gave you? Destroy it!". Now, we'd go with the much more practical choice of returning it, but let's just say that the guys needed a fun caption for a video of destroying a bunch of somewhat outdated phones.
And no, there is no particular brand to be put to the torture, as among the devices we witness being burned, cut in half, twisted, and drilled through we can see HTC, BlackBerry, Nokia. Though we wonder, whether choosing to drill an HTC's camera out has something to do with the not-so-well-received UltraPixel tech.
source:
Engadget