Video shows BlackBerry Z10 with Chinese handwriting recognition in BBM
5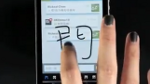 An official BlackBerry video shows a feature of the all-touch
BlackBerry Z10
that has not been widely promoted. Based on the video, it appears that users of the first BlackBerry 10 flavored device have a handwriting recognition engine in BBM that works, at the least, in Chinese. While our knowledge of the Chinese language is non-existent, we can make out the 8PM time written by the user and the word "Central" that follows it.
Since BlackBerry has not really promoted this feature it is unclear whether it will be expanded to other languages. While BlackBerry users might be celebrating this as something new, you might recall a similar feature being available on 2008's
LG Dare
. The Dare allowed users to use their finger tip to input numbers and letters in English instead of using the virtual QWERTY keyboard.
source:
BerryReview