Verizon's Samsung Omnia II receives an unexpected software update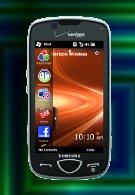 Almost getting close to that one year anniversary since it first graced Verizon's lineup with its last-generation Windows Mobile presence, Samsung Omnia II SCH-i920 owners are presented with a new software update for the handset. There are plenty of things to look forward to with this one since it packs some useful enhancements and new features.
After pointing your PC in the direction of the download page, it'll offer stuff like Windows Mobile AKU Update to 5.0.93, Facebook app updates, Widgetplus updates, and Qualcomm updates. Unfortunately, the whole process is a bit tedious since it'll delete all the data on you smartphone – so it'd be wise to make sure you back things up before proceeding to install the update. Once you've completed all of the requirements, you'll be able to experience all the neat things accompanying the update.
Samsung Omnia II SCH-i920 Specifications
|
Review
source:
Samsung