Two Dr. Suess titles now available for purchase in the Android Market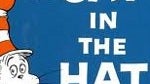 Thing One and Thing Two and the Cat in the Hat are now in the Android Market, what do you think of that? This Suessian display of writing was done to tell you that two Dr. Suess titles, The Cat in the Hat and How the Grinch Stole Christmas are now available for $3.99 from the Android Market.
Each app will allow you to read the book or have the book read to you. Words pop up and pictures move around when touched and there is music and other effects. This could be a great way to relive the memories of your childhood or to help teach a youngster how to read. After all, most of us honed our reading skills on these two books and this is just the way to learn in the 21st Century.
source:
AndroidGuys