Sprint to buy the remaining Clearwire stock for $2.1 billion
8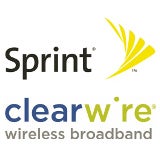 Sprint, which currently owns the majority stake in Clearwire, is willing to buy all the remaining stock of the company at $2.90 per share, which means that the value of the company is somewhere around $4.23 billion. US carrier number 3 already owns 51.7% of Clearwire, however, so it will have to shell out $2.1 billion for the remaining stock.
This offer by Sprint comes with a 5% premium to Clearwire's stock price from Wednesday, but it should be noted that by the time, Clearwire stock had gone up after
rumors of Sprint's interest in the company
emerged. That is why Reuters reminds that Sprint's offer actually represents a 20% premium if we take a look at Clearwire's December 10 closing stock price.
The offers is currently being evaluated by a committee of Clearwire's board.
source:
Reuters