Sprint makes Pandora free of charge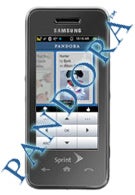 Sprint subscribers now have the opportunity to enjoy Pandora… for free! Don't worry, we're not talking about Pandora's Box here, we're talking about the personalized radio service. The requirements for this are to have a compatible handset and a data plan. So far, the charge that Sprint users had to pay was $2.99, which isn't that bad, considering that Sprint was the first carrier to offer a mobile version of Pandora, which, is now supported on many popular phones.
"This is a very significant move for Sprint and for the mobile industry more broadly", said Tim Westergren, Founder of Pandora. We're not that sure if this is really such a memorable move for the mobile industry; we'd rather prefer a 4-inch touchscreen phone, but Pandora is also fine…
Here
is a list of the compatible Sprint phones.
source:
PR Newswire
via
IntoMobile