Sony Xperia Z2 will have lots of fancy cases - check them out!
31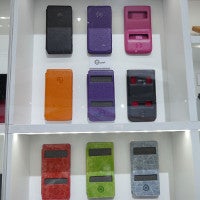 So, while we were just cruising around MWC '14, our attention was suddendly attracted by something fascinatingly colorful found at the opposite end of Sony's booth. Wonder what it was? Well, it was an impressive display of some of the cool cases and covers that will be produced specifically for the Xperia Z2.
As we said, these Sony Xperia Z2 cases come in a a large variety of colors, form-factors and styles. We can't be sure exactly which ones of them will be available at launch, but hopefully it'll be most of them. It's a great thing that Sony has collaborated with some talented accessory manufacturers, such as Zenus, Ksix, Elecom and more. Feel free to browse through the gallery below and take a look at some of the fashionable cases designed for the upcoming Sony Xperia Z2!