Skyfire 3.2 for Android brings forth new features & bug fixes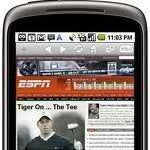 Always trying to innovate and keep things fresh,
Android's Skyfire app has been recently updated to version 3.2
which brings forth some additional new features, while taking care of a few bugs as well.
The update to the popular web browser is now available in the Android Market and current users should expect to see new improvements that enhance the overall experience. Specifically, it now features the
OneTouch Search box
in the toolbar, quicker start-up times, better stability, and further support for embedded media playback. With so many alternative browsers to choose from out there, it's still surprising to see that Skyfire is still at the top of their game.
Naturally, you can fetch the update for free, but it's still only available to Android 2.0 and up smartphones.
source:
Skyfire
via
Phonescoop