Quick camera showdown: Google Nexus 5 versus Apple iPhone 5s
62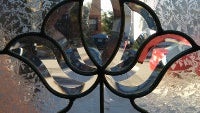 Oh boy! There are probably lots of people waiting patiently for their Nexus 5 smartphones to arrive at the footsteps of their homes. Needless to say, everyone is itching to get their hands on the latest Nexus smartphone, which yet again, stands out for its immaculate outright price point of $350 for the base model.
As with most things, most people are curious about how its 8-megapixel camera performs, especially when it's following after some spectacular handsets that have shown their prowess. Certainly, we can go into detail regarding the delicious set of hardware in tow with its camera, like its OIS module and f2.5 aperture lens, but we're just going to jump straight to the point.
Below, we've taken a few samples from the Google Nexus 5, and its highly esteemed rival in the Apple iPhone 5s. What do you folks think about it?
Recommended Stories