Qualcomm invests in a joint IGZO screen effort with Sharp
4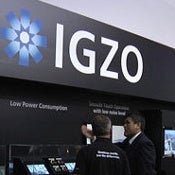 Sharp's IGZO display technology promises a breakthrough in energy-efficient screens, but the Japanese manufacturer is in financial dire straits, and asking around for help. Qualcomm has answered the call, and will inject around $61 million (five billion yen) in Sharp, thus acquiring a 2.6% stake in the company.
If
"sufficient progress has been made"
by Sharp on IGZO, Qualcomm will follow up with another $61 million, doubling its stake to more than 5%.
Those over $120 million, or 10 billion yen, is close to the sum that Sharp lost when the joint venture between Sharp and Sony broke up.
The IGZO (Indium gallium zinc oxide) display is one technology we are particularly excited about as it promises to cut down power consumption of screens significantly, and that could mean more precious longevity on our devices.
source:
Reuters