Protect the great - 10 LG G4 cases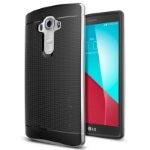 Did you decide to pick up the LG G4? Well, congratulations, then - it's a really good smartphone! And the second best thing you can get alongside it is a case to protect it against drops, bumps, and scratches. Seriously, handling any phone, especially one as big as the LG G4, can be prone to the aforementioned incidents. And no one likes a scuffed or broken smartphone, especially when it's so nice, new, and shiny!
Then again, the G4 is a bit of special beast, as putting the genuine leather back version in a case feels incredibly... wrong. You want to see it and feel it, right? And let it age naturally as you're using your phone. We won't blame you if you wear the phone naked, then. But buyers of the regular plastic back version should definitely consider these products.