Pebble smartwatch may finally get a release date at CES
14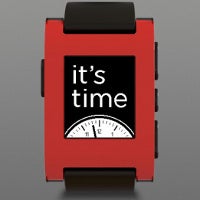 The Pebble smartwatch is a Kickstarter success story, gathering thousands of likes and more importantly millions of dollars to kick off the project. Sadly, as most Kickstarter projects it has now been delayed a couple of times and there is no fixed release date.
That is likely to finally change as the Pebble team is gearing up to name the
release date at CES on January 9th, 2013
.
Pebble had 68,000 backers who have pledged $100 or more to the project, granting them a smartwatch. Luckily, despite the slight delays, the team is constantly keeping backers in the know about its progress, so there are no surprises.
What makes Pebble different is the fact that it not only connect to your smartphone via Bluetooth, but also features an e-ink display for lower power consumption and good visibility even under direct sunlight.
source:
GetPebble