Palm Eos still a go for this November?
This article contains unofficial information.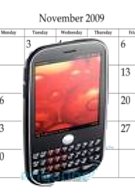 At times there are a lot of factors that come into play when gaging the release date for a product. In Palm's case, their WebOS platform premiered very well on Sprint's exclusive Palm Pre. For the second WebOS device though, the Palm Eos (codename: Pixie), it's release date is becoming more erratic with still no definitive date set. Originally planned to work on a GSM network, AT&T most likely, it's now being speculated to launch some time in November through either Verizon or Sprint – there have been leaks hinting in both their inventory systems. The exact time frame has been changed many times over the course of the last few months with it even getting pushed back until 2010. Palm may need to push this one out soon rather than later to make up the Palm Pre's lackluster sales of late.
via
IntoMobile