Nokia "smokes" BlackBerry users in new Amazing Everyday video challenge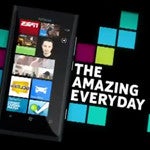 Nokia wants you to use the "Smarter Apps" of their Lumia Windows Phone line, and in the tradition of
past Windows Phone challenges
has released a video showing of a demonstration representative challenging some BlackBerry users to see who can check in via FourSquare more rapidly.
The video is more light-hearted than the "
Smoked by Windows
" campaign earlier this year, and includes a magic trick as well as free Lumia's for the participants in the challenge. Like the Smoked by Windows commercials, the video focuses on the benefits of being able to pin apps to the Live Tiles, which in this case lets the user check in in a couple of short taps.
Check out the kinder and gentler challenge video below and let us know what you think. If you want to see more of Nokia's "Smarter Apps" campaign, check out the source link below.
source:
Nokia
via
WMPoweruser