Nokia preparing a QWERTY Series 40 handset, is it the Nokia 303?
3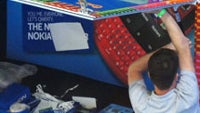 One more thing leaked out just before the Stephen Elop's opening keynote at Nokia World – a QWERTY Series 40 device, which could be one of the more affordable devices introduced at the event. One of the pictures is pretty large and you can clearly see a red QWERTY handset advertised with
"You. Me. Everyone. Let's QWERTY."
Now, this could be the
Nokia 303
, which was rumored to run on Series 40 6th Edition and be of the Touch and Type variety of hybrid devices. The device also looks like it's coming with both Wi-Fi and 3G support.
If you take a closer look at the pictures below you'd also notice some other boxes, but those required more than a magnifying glass to decipher and we'd rather wait for the event to see what they contain.