Group seeks to block WhatsApp deal until its affect on privacy can be determined
13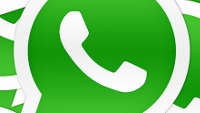 A group made up of privacy advocates is asking U.S. regulators to hold off on approving
Facebook's $19 billion acquisition of messaging app WhatsApp
. The group is concerned about what Facebook intends to do with the personal information belonging to the 450 million WhatsApp subscribers. The messaging app had an understanding with its users that it would not collect such data for advertising.
The group that filed the request with the Federal Trade Commission includes members of the Electronic Privacy Information Center and the Center for Digital Democracy. In the filing, the group expresses its concern that once Facebook acquires WhatsApp, the personal data collected will be used for advertising purposes.
Facebook and WhatsApp agreed to the transaction last month and the deal is awaiting regulatory approval from agencies like the monopoly-busting FTC.
source:
Reuters