Google pin-points 11 best designed Android apps, find them here
9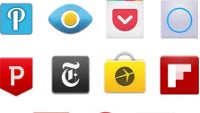 There is close to 900 000 applications on the Google Play store, but only a handful have truly outstanding design. To guide you through that jungle, Google Developers has pointed out 11 applications that truly stand out among all the rest. The applications are summarized in a brand new "Beautiful Design collection" on Google Play.
To qualify in this category an app must comply with certain high standards.
"Attention to detail makes an app truly beautiful: transitions are fast and clear, layout and typography are crisp and meaningful, and design touches that delight you in surprising ways are sprinkled throughout,"
Google explains.
Some of the apps to grab a place in the 'beautiful' ranking are familiar, and others you might not have heard of. They are all right below.
source:
Android Developers