Fool your iPhone into allowing Flash by using a Smokescreen
This article contains unofficial information.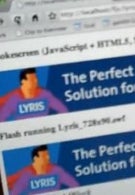 If the CEO of Apple has decreed, "No Flash for you", than no Flash will be allowed on the iPhone. That is, unless you put up a Smokescreen. The aptly named app takes a back door approach to allow you to access Flash on the iPhone, iPod Touch and the iPad. How does it work? "It runs entirely in the browser, reads in SWF binaries, unzips them (in native JS), extracts images and embedded audio and turns them in to base64 encoded data:uris, then stitches the vector graphics back together as animated SVG," according to U.K. programmer Simon Willison. Those testing the app have found that it works great on banner ads. YouTube videos and games ran very slowly which means more work needs to be done-unless your a banner ad fanatic.
source:
Smokescreen
via
Engadget