FEMA and Verizon send hair-raising text message out while testing an emergency response system
10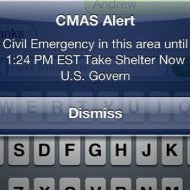 FEMA and the FCC are currently testing the Commercial Mobile Alert System (CMAS), which is a joint effort for a nationwide emergency alert system, involving the mobile carriers.
The goal is to inform people when a disaster strikes, anywhere there is cell phone coverage, but the duo sent a pretty formidable message to some of Verizon's subscribers in the New Jersey area: "
Civil Emergency in this area until 1:24 PM EST Take Shelter Now U.S. Govern
".
Verizon's take on the matter is that the text message was part of the CMAS testing scheme, but was outed without proper labeling, although it wasn't quite sure what happened and will be looking into the matter further. The alert system will allow for portable mobile towers to be raised in disaster-stricken areas, restoring cell phone service and texting instructions to the citizenry affected.
source:
Geek