Best video editors for Android in 2019
2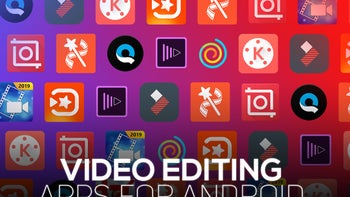 What is the best video editing app on Android?
This is a question that we hear often from friends who just want to string a bunch of videos together in a surprise birthday wish to enthusiast mobile videographers that want to create a cinematic video on their phones. And while on iOS you have the free iMovie that is surprisingly agile and has no in-app ads, on Android you don't have one single app that is both free and as capable.
Prepare to pay at least some money for a good video editor on Android
Thankfully, this does not mean there aren't any good video editors for Android. There are quite a few great video editing apps: we found only one that would do it all for free, and it's functionality is limited to the basics, so if you really want a powerful video editor that will allow you to export your creation without a watermark or any other limitations, you would need to pay some cash. Got that? There is NO completely free video editing application on Android and the free versions that you will encounter are inevitably infested with ads and other caveats in the small print.
Once you understand this, it's easy to see the best options out there, so let's get started...
Best Basic Free Video Editor Without Watermarks:
Crop & Trim Video
Price: Free, no watermark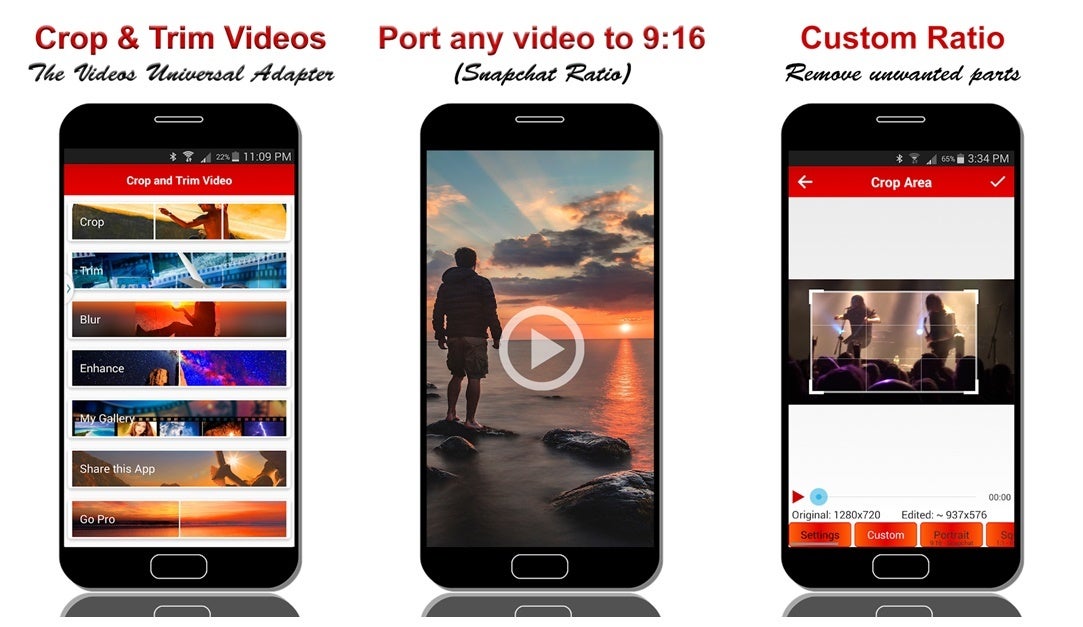 This is the only free application that will not slap a nasty watermark on top of your videos. It supports all the basic functionalities like trimming, so if that's all that you need, this app will be your number one choice, but don't look for anything more advanced like layers or even the ability to add an audio track here.
Full-featured
PhoneArena Choice

: InShot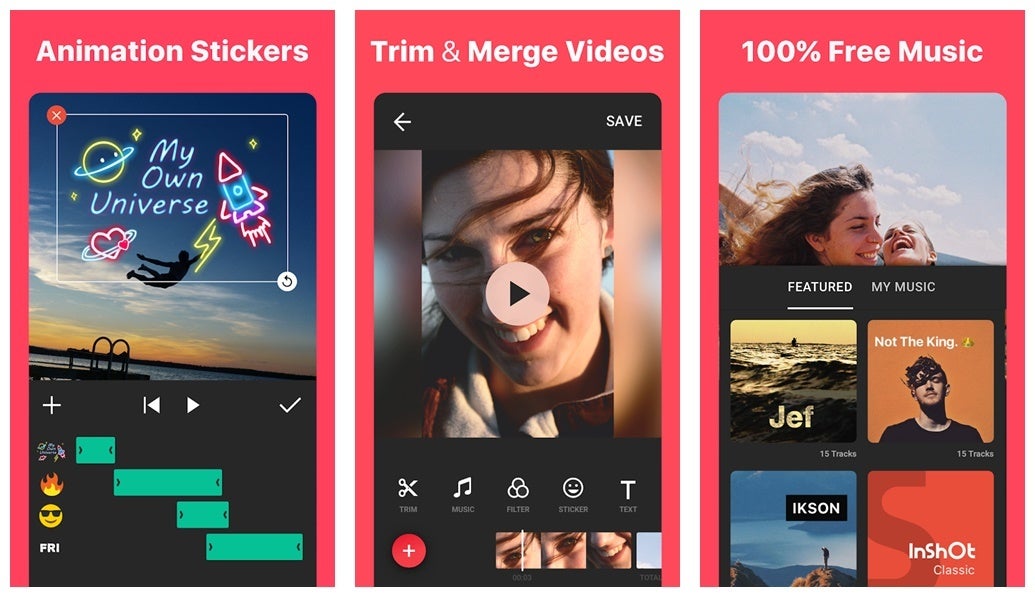 Free Version Limitations: up to 1080p Full HD quality, ads, and more limitations

Premium Pricing: $4 to remove ads
InShot is a basic video editor with a clean interface that gets the job done and that's what we like it for. Compared to many other ad-infested creations, this one is much faster, almost instantenous, and while it does have ads to pay the bills, they are not getting in the way too much. What can you do with this app? Starting from trimming clips to adding music, filters, stickers, text to controlling the speed of a video, InShot covers the basics very well. Thumbs up!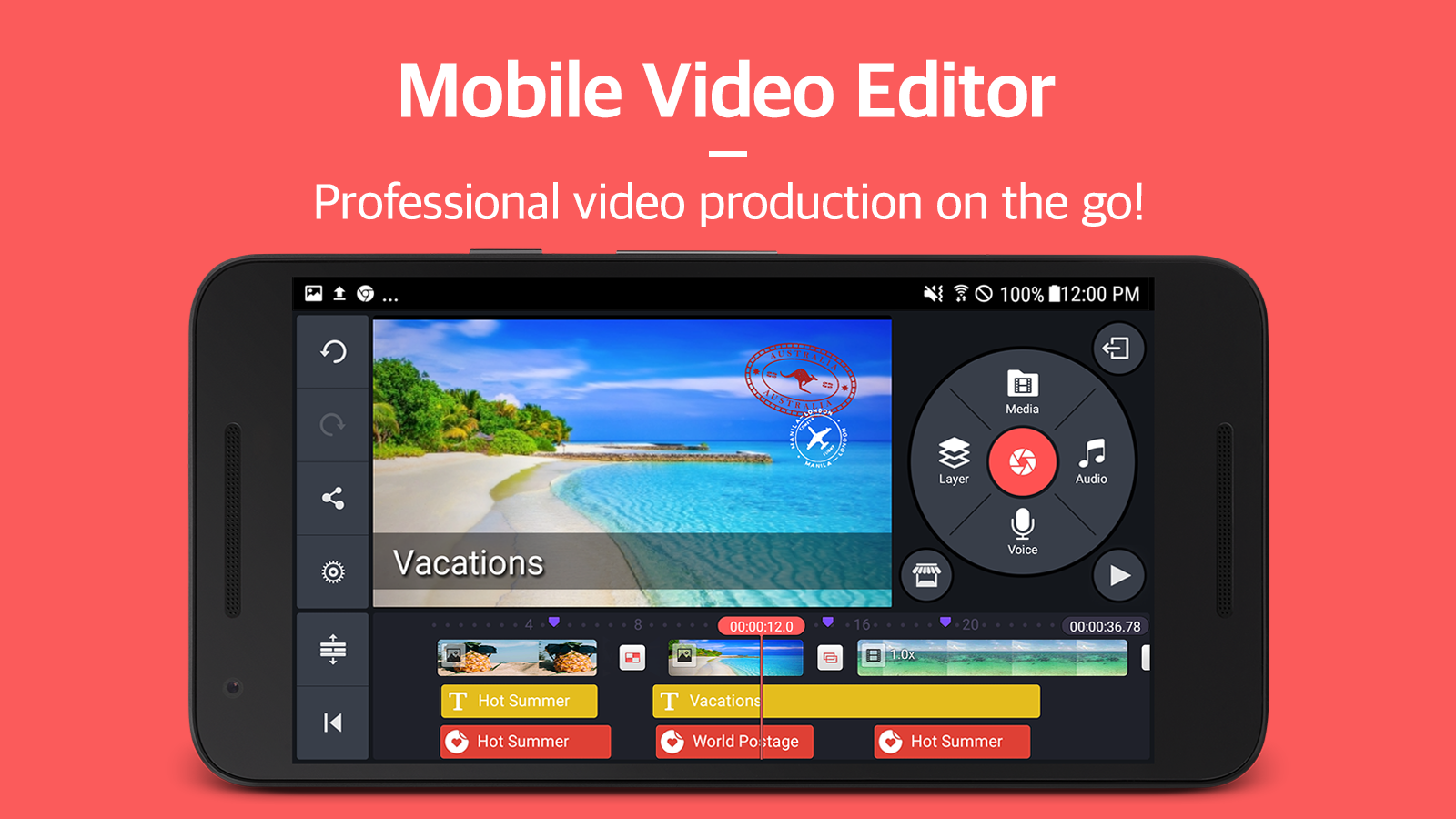 Free Version Limitations: watermark, ads, no premium assets, and more premium features missing
Premium Pricing: 7-day trial and $4 monthly, or a $30 annual subscription

If you are looking for a video editing app that is both easy to use and has a good amount of advanced features including multi-layer tracks then Kinemaster is our second-best choice. We have looked through a dozen of the best video apps and found that Kinemaster is among the most intuitive ones with an easy-to-grasp interface with layers, very easy to understand color codes for different types of media, and the option to precisely adjust the length and position of clips in your timeline. This is also the closest you get to professional products like Premiere Pro on a mobile phone and the interface will be easily recognized by professional developers and enthusiasts alike.
Power Director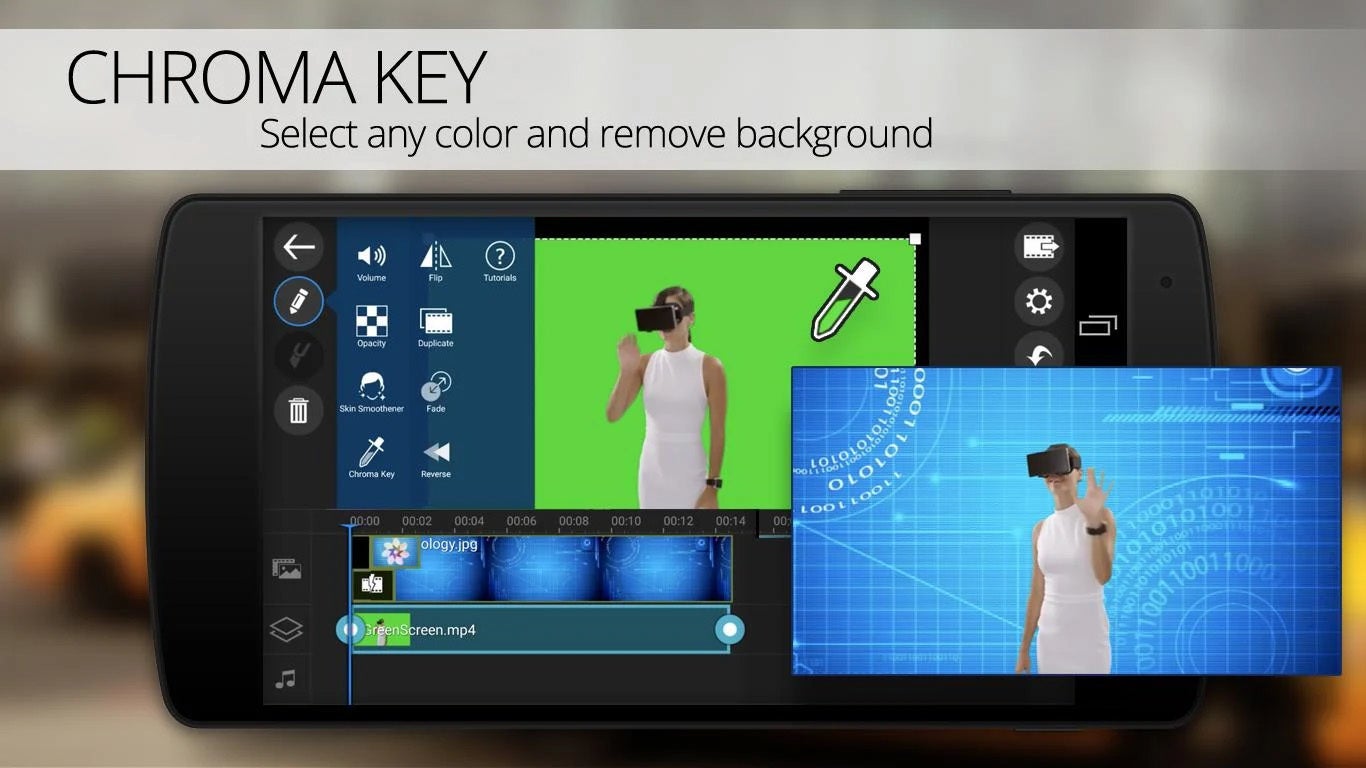 Free Version Limitations: watermark, a ton of ads, export only after watching ads, and more limitations
Premium Pricing: $6/mo for a single month, $4/mo for three month subscription, and more options

Power Director has a bit more of a serious look that those who create videos will appreciate: its dark theme is uninterrupted by annoying ads and the application allows users to import clips from Google Drive easily. You have three different layers, a very precise and easy to control timeline, as well as some basic effects. Plus, it's one of very few apps that allows advanced tricks like green screen replacement via chrome keys. Not bad!
Filmora Go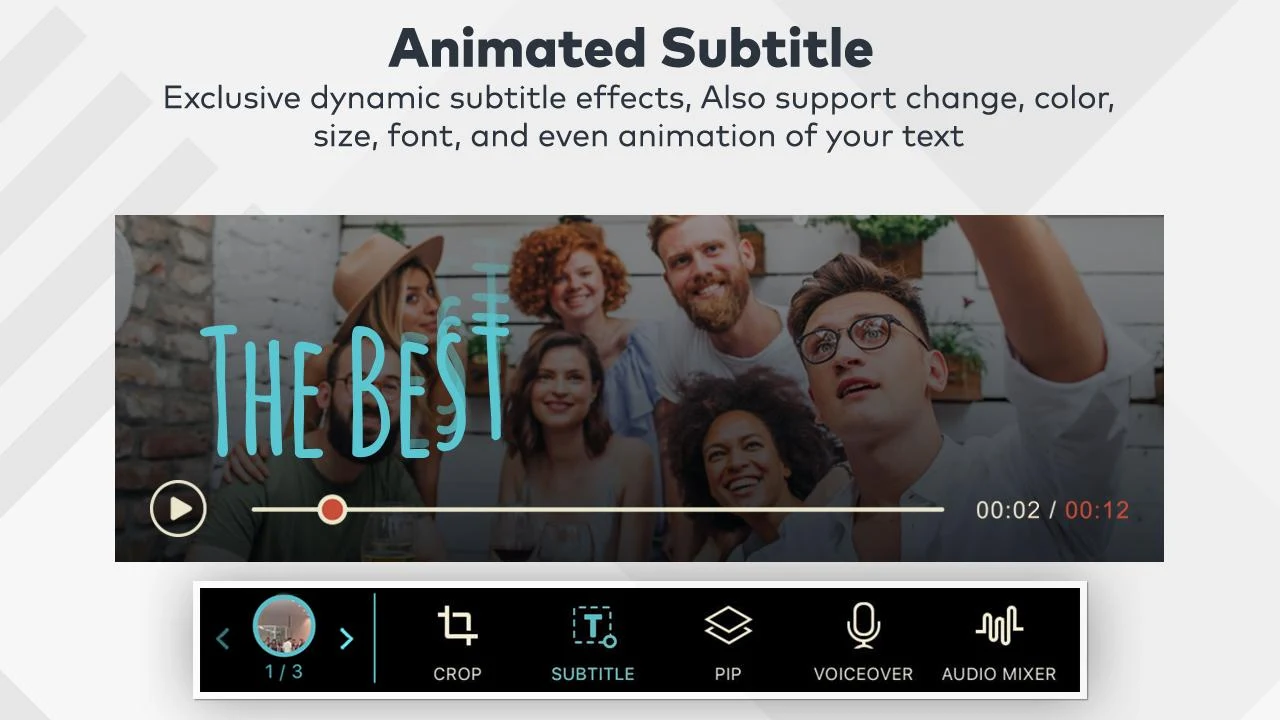 Limitations: $3 to remove watermark, very basic app

Another application that covers most users' needs including the very basics like trimming and cropping, but then also allowing you to add music, transitions, voiceovers as well as various basic effects and subtitles. There is no support for layers, but you can do many of the things that are usually achieved with a layered interface with this app. The free version comes with a watermark and you would need to pay $3 to export your video without a watermark, which is not a bad deal.
Action Director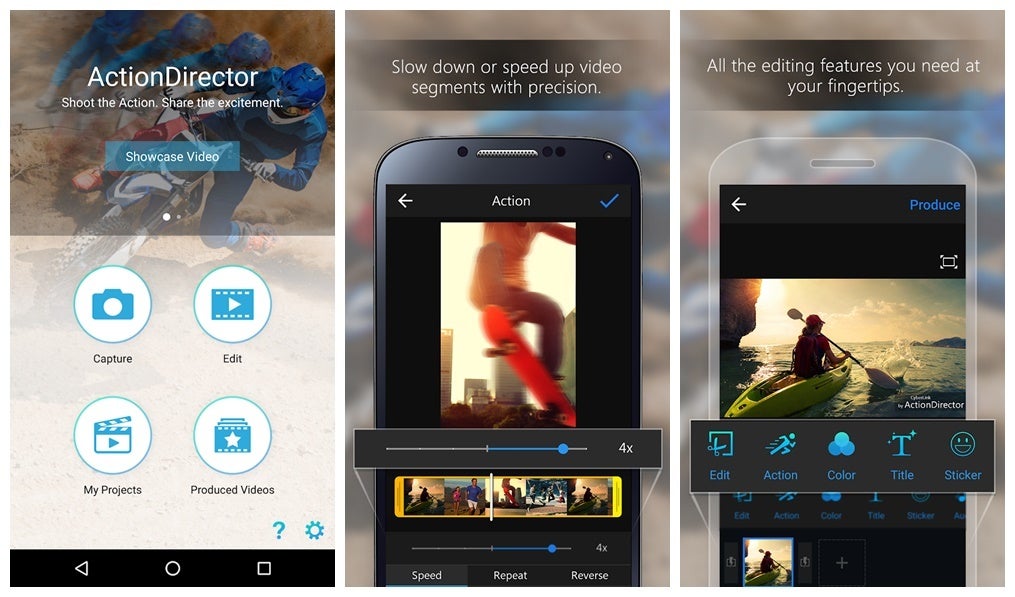 Limitations: $5 a month to export high-resolution videos (4K and 1080p)
Cyberlink's Action Director is a rather basic application that does not support layers, but it still covers the basics like trimming, controlling the speed of individual clips, as well as the option to reverse them, there are some transitions, titles, stickers and the option to add audio. All of that, however, comes in a very outdated interface and the app is definitely not among the prettiest out there.
Adobe Premiere Clip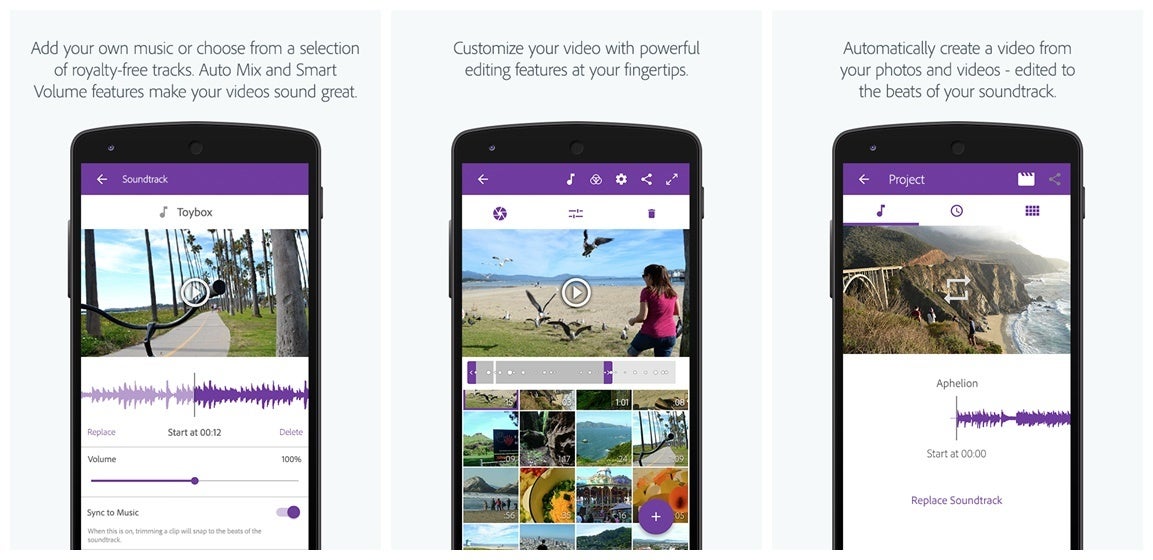 Limitations: You need to pay substantial amounts of money for Adobe's suite of apps to use it
The Adobe Premiere Clip is a great basic video editor with a clean and modern interface that works well, but the biggest downside with it is the high price of the Adobe suite subscription.
VideoShow Video Editor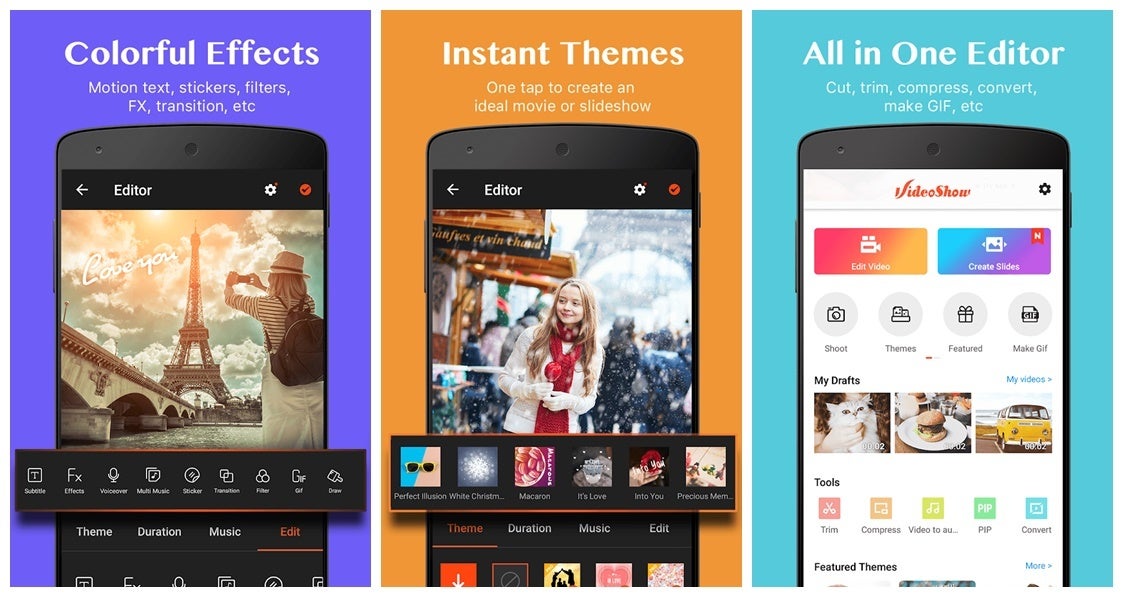 Free Version (3-day trial) Limitations: watermark, up to 720p HD quality, ads within app and more limitations
Premium Pricing: Typical subscription is paid yearly at $20

VideoShow is one of the most popular apps out there and its interface is almost exactly like the one in VivaVideo, but the actual experience of using this app is worse. You are greeted to a mess of different themes and effects that the app is trying to sell very aggressively, plus after the short trial using the app becomes almost impossible as pop-ups appear from all places urging you to buy the premium subscription. Not a great showing.