Best new Android widgets (May 2016)
0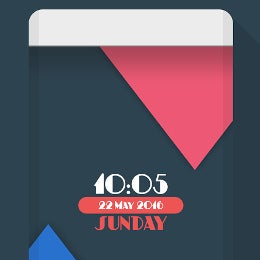 Do you use widgets on your Android device? If yes, good for you, if not, why not? After all, widgets are one of Android's fundamental features and not utilizing them is like driving your supercar to the local Walmart only - a waste of potential! It's true that other operating systems support similar UI features, but let's face it, none is as advanced as Android's take on the matter.
As we are pretty keen on customization and widgets are a major part of this ordeal, we scour the Play Store every two weeks and search for the very best new widgets. And why do we do this exactly? Simple, we want to regularly present to you the best and most noteworthy new widgets that get released on the Play Store. As it's rather hard to separate the wheat from the chaff, we do the hard work for you and show you all the notable new widgets that have arrived in the last fortnight or so.

Candy
If you are using Zooper Widget Pro, you will most probably like Candy. It's theme with 14 similarly-designed widgets that go along pretty well each other. A rather spectacular theme for customization fans. While it's free, you'll need to have Zooper Widget Pro installed in order to use it.
King
Do you want to stand out? Are you really, really sure? If yes, then this widget pack for Zooper Widget Pro and KWGT will definitely help you achieve this. It has more than 30 skins for both of the most popular widget apps, as well as 3 sets of weather icons and 50 high-res wallpapers for you to enjoy.
MEGA Zooper Widget
Lo and behold, yet another skin pack for Zooper Widget Pro! This one has around 10 skins that would look pretty cool against almost any background.
Random SMS Widget
This one is quite nice, actually! Let's say you are commuting each and every day (most of you certainly do) and there's always the chance that you might find yourself stuck in a traffic jam. Usually, one needs to notify their managers that they're about to be late, and this is where this widget comes into play. It enables you to easily send a predefined message to a certain number and save yourself from the wrath of your team leader.
Keep Screen On
If, due to some reason, you need to occasionally deactivate the auto-locking of your Android device
just because
, then this widget will be of great aid. Instead of having to tinker within the Settings menu and lose precious time, you can just put it on any of your home screens and easily toggle between having your display stay always on or go to sleep after a predefined amount of time. Might be useful!
Now reading