Best new Android widgets (March 2016) #2
0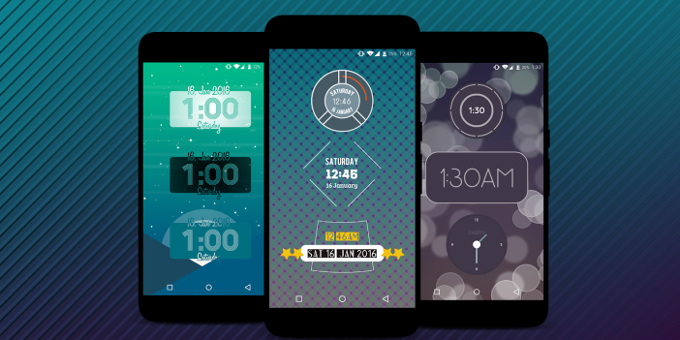 Do you use widgets on your Android device? If yes, good for you, if not, why not? After all, widgets are one of Android's fundamental features and not utilizing them is like driving your supercar to the local Walmart only - a waste of potential! It's true that other operating system support similar UI features, but let's face it, none is as advanced as Android's take on the matter.
As we are pretty keen on customization and widgets are a a major part of this ordeal, we scour the Play Store every two weeks and search for the very best new widgets. And why do we do this exactly? Simple, we want to regularly present to you the best and most noteworthy new widgets that get released on the Play Store. As it's rather hard to separate the wheat from the chaff, we do the hard work for you and show you all the new widgets that you should know about once every two weeks.
S7 Zooper Widget
Even if you don't own a new Galaxy S7 or an S7 edge, you can sort of emulate their interface looks on any Android device with this Zooper Widget Pro skin. It comes with a 19 variants of homescreen widgets that show either weather info, the current time, or both. You can have them in 12 and 24-hour versions.
Zooprox
Do you like Zooper Widget Pro? Well, if not, then Zooprox might be the perfect reason to become one. With over 40 different widgets, as well as 20 handcrafted wallpapers that go quite well with these. All of this can be yours for a buck and a half.
Weather & Widget
There are quite a lot of app on the Play Store that show the current time and weather straight on your home screen, that's true, but we are always open for a new addition to this category. Weather & Widget is just that, a small home screen widget that provides only the most vital information. Best part is it's available for free!
Trek Note Widget
With Trek Note Widget one can not only create their own notes, but also customize the font, size, and color of the notes you take. You can also choose between several different backgrounds for further customization of your notes. The ready ones can then be exported and shared as per your liking.
Basketball Widget
Download (free)
Dig basketball? With this little handy-dandy widget, all of the recent NBA match results will be displayed straight up on your home screen. Go, 76ers!