Best new Android widgets (March 2015)
3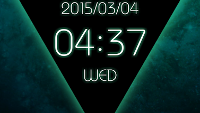 Looking for a new, shiny and head-turning widget to put up front on your home screen? Naturally, those who swear by Google and Android have tinkered with these; in the meantime, those heavily investing into customization are certainly always searching high and low for a new widget that will give a whole new flavor to their Android screens.
Surely, Google Play is the home ground of many a widget, and while we've already separated the wheat from the chaff numerous times, a multitude of new ones hits the app repository on a regular basis. That's why it's rather hard to keep tabs on all the new widgets that make the rounds for Android. Surely, even the most dedicated Android fans have a tough time keeping track of these.
Here are the better ones that landed on the store in the last fortnight.
Galaxy S6 Zooper Widget
A pack of skins for Zooper Widget that resemble the clock and wather widgets on the Galaxy S6 and Galaxy S6 edge.
Sense 7 (HTC M9) for Zooper
Provided that the weather/clock widget of HTC's new Sense UI 7 caught your eye the most during the announcement of the HTC One M9, then this skin for Zooper Widget will probably interest you.
TapDeck - Wallpaper Discovery
A new widget that allows you to change your wallpaper with a simple double tap. Swipe the widget's icon app and you'll be treated to additional information about the wallpaper that is gracing your home screen at the moment.
Geometry for Zooper Widget Pro
This is a collection of quite appealing weather & clock widgets for Zooper Widget Pro that pack a potent Material Design vibe. There are 74 skins inside this pack, as well as 13 different icon sets.
Detailed YR Weather Widget
This new weather widget will provide you with a detailed, though not overwhelming information of the current weather conditions in your immediate vicinity.
Battery Widgets
This new entrant on the widget stage allows you to put a battery level-measuring widget straight on your home screen, because why not? It comes with several different skins to choose from.
Wear Charging Widget
No, this widget yon't magically charge your Android Wear device. It's a widget that won't turn off your wearable's display when you're charging it. Don't worry, it will conveniently prevent AMOLED display burn-in by slowly displacing the text on a frequent basis.
GitHub Contributions
If you are contributing to GitHub on a regular basis, then you might find this one quite handy - it provides you with a calendar that displays your most recent activity in the Git repository.