Best new Android, iOS and Windows Phone apps of February 2014
38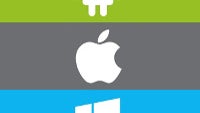 With another month behind us, it's time to once again take a look at what new apps have arrived on the world's largest app stores - Android's Google Play Store, the Apple App Store and the Windows Phone Marketplace. From all the new arrivals, we pick just the best new apps for each of the three platforms, and this time around there was no shortage of great apps.
We start off with a collection of the best new Android apps, where you'd find our personal favorite - Muzei Live Wallpaper, but also Google's own Now Launcher, Samsung's new Milk Music streaming app, and a lot of other apps that you should definitely try out.
For those of you who have an iPhone or an iPad, you'd better get ready - the iTunes Festival starts tomorrow in Austin, Texas, and if you are not there, you'd be able to livestream concerts and stay in the loop with the official companion app that you can find below.
The third platform is still far off from the big two in terms of applications, but it's steadily building up critical mass, and we also have 5 picks for those rocking a Windows Phone.
With no further ado, take a look at the best new Android, iOS and Windows Phone apps right below, and feel free to share your favorites in the comments section.