Best iOS video player apps for the iPhone and iPad
18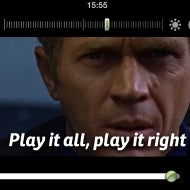 Apple's iOS is pretty discriminating in terms of what file formats are supported, and mostly gravitates around Apple's own and vetted pieces. The stock video player doesn't make an exception, and for WMV, DivX/Xvid, FLV or MKV files you'd have to look elsewhere, or convert.
Converting is a hassle, and if you are consuming video more often than you should on your iPhone and iPad, you've probably felt the need for a versatile, play-it-all video app. Well, due to the limitations Cupertino places, there is no ideal solution, but some are pretty close.
With the recent AC3 and DTS sound playback kerfuffle, most player darlings updated their apps to ditch the decoder support and avoid playing license fees, depriving you of audio for many clips in your video library in the process, but some still support it. We are rounding up a few of the best in the slideshow below, to help with your quest to circumvent the limited video format playback of the default player Apple supplies with iOS.