Best camera apps for iOS that lets you shoot RAW on your iPhone 7, 7 Plus, SE, 6s or 6s Plus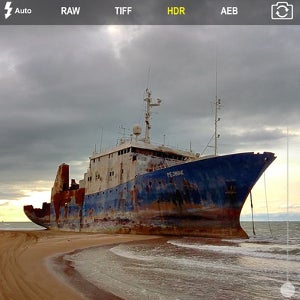 Did you know that your iPhone can shoot RAW? Yes, you can, provided that you have an iPhone with the A8 chip or newer inside, which means that if you've got an
iPhone 6s
, 6s Plus, SE,
iPhone 7
or
7 Plus
, you're good to go.
The arrival of lossless RAW support on the iPhone was a bit low-key - Apple introduced the necessary APIs for that provided that it's not a "mainstream" feature and will likely be of any importance only to those shutterbugs who are willing to leave their DSLRs home and shoot RAW on their iPhones. This is likely the reason why the stock camera app does not allow you to shoot lossless photos - you need to resort to a third-party app to do so.
We felt compelled to show you five of the best camera apps that let you do so. Here they come:
Adobe Photoshop Lightroom
One of the very best photo-editing apps for iOS doubles as a great alternative to the default iOS camera. Basically, it blows the latter out of the water in terms of features and functionalities, and one of its biggest merits is the RAW photo capture support. Best part is that you can edit the RAW image you just shot straight in the app, if editin such file on a small screen is your thing.
ProCam 4
No matter what your photography endgame is, there's no denying that ProCam 4 will hardly let you down - the multi-purpose camera app for iOS is a jack of all trades, but also a master of almost all of these. With the impressive array of manual controls, RAW photo capture, and heaps of intriguing features that few other apps have, ProCam 4 is definitely something we strongly advise you to have on your iPhone.
ProCamera
We are not going to lie - ProCamera is one of our favorite camera apps for iOS. It's sleek and feature-rich, having all the essential features a great camera app should have. RAW image capture is also a part of its vast feature list. True, ProCamera is a far cry from being a paragon of a user-friendly and intuitive interface, but we feel that its photography prowess vastly outweighs the complex and convoluted interface.
Manual
If you are a fan of better-designed apps that are still rather capable, then you should try Manual Camera instead of ProCamera. Truth be told, it is as chock-full of feature and functionalities as the latter, but will generally you serve you just as fine. As an added plus, it looks better and is more intuitive. Capturing RAW images with this one is dead-easy - upon enabling the corresponding option, users are allowed to choose whether to capture RAW only or RAW + JPEG, which is advisable if you wish to have a file that's easy to share on social media.
MuseCam
MuseCam is an excellent multi-purpose camera that not only shoots RAW whenever you ask it to, but also has the basic slew of manual controls that we covet. As an enormous added bonus, it also has a built-in image editor that lets you edit the images you've just taken straight on your phone. To be honest, if you're intending on shooting RAW with your phone, you'd likely want to develop the images on your desktop, but having the tools embedded in the app is undoubtedly a good thing to have.
Fan of 500px? If that's the case then Raw by 500px needs to find its way to your phone. It's one of the community's mobile apps and just like its name suggests, it allows you to snap, develop, upload your pictures to 500px, and hopefully, license your photos on the site's marketplace, where they can earn you some money. It also comes with a basic but entirely sufficient palette of image-editing tools. We can't say we are thrilled with the app's interface, which requires a bit of getting used to. Still, we are recommending this one.