Best SD card reader for your Android phone
We may earn a commission if you make a purchase from the links on this page.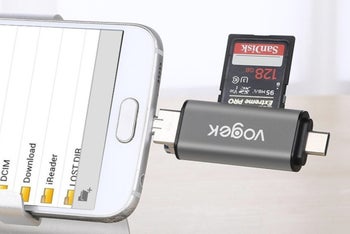 If you want to easily transfer information from your camera to your phone, you probably need an SD card reader.
But first, you need to be aware of a few things: you need to have a modern phone that supports OTG and you probably need a phone with a lot of storage, especially if you want to be transferring videos from your camera to your phone.
If you have those requirements covered, read on.
There are a bunch of SD card readers out there, but the most versatile and compact one that we have found is the...
Best: Vogek 3-in-1 USB 3.0 SD Card Reader
This nifty little gadget is the swiss knife of SD card readers. It supports not one, not two, but three different ways to connect: it has USB-C for your modern phones, it has microUSB for older phones, and it has a full-sized USB for computers! The only thing it lacks is a Lightning connector, but that would be too good, wouldn't it?
In the middle of this wondrous little gadget is an SD card, but also a microSD card, so you can easily read different card formats.
The Vogek 3-in-1 supports USB 3.0 speeds, so transfers will be fast IF your phone also supports USB 3.0. To find out if your phone supports USB 3.0, simply look it up in our detailed specs pages and search for "USB". Many top-tier phones like the
OnePlus 6
and
iPhone X
still only support USB 2.0, while others like Samsung Galaxy series support USB 3.x speeds in the past few generations.
Priced at just $12, rated 4.5 stars on Amazon and available in three colors (black, gray and silver), the Vogek 3-in-1 SD card reader is the tiny little gadget you have probably been looking for, but couldn't find.
Buy it on Amazon here:
Alternative: Anker 2-in-1 USB SD Card Reader
If you can't quite trust a company that you have never heard of, you should also consider the SD card reader by the popular and traditionally reliable company Anker. Anker lacks the microUSB and standard USB options that you get with the Vogek, but it's a solid USB-C card reader for the present and future. It supports OTG, high-speed data at up to 5Gbps, as well as support for both SD cards and microSD cards.
The Anker card reader also has a solid aluminum construction and is durable, made to last. Plus, it is also priced low at just $13.
Buy it on Amazon here: