Best S Pen apps and freebies for the Samsung Galaxy Note 4
7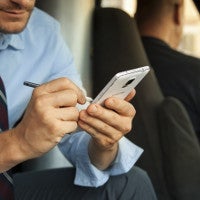 Not only did Samsung essentially jump-start an entirely new category of phablet devices with the original, 2011
Galaxy Note
, but it also popularized stylus input with its S Pen. Samsung's stylus has gone through some significant changes with each successive generation, culminating in
the Note 4's ever more polished, ever more functional S Pen implementation
.
Using the S Pen, however, is a matter of choice.
In a poll of ours
from not too long ago, 35% of respondents indicated that they never actually use it, while an even more recent one shows that, at the time of this writing,
over 40% of poll takers
say they would buy the Note 4 even if it came without the S Pen. While the reasons for which people shun the S Pen are likely complex and depend on personal usage habits, it is also the case that the number of apps that make active use of a stylus is not that high. The number of
great
stylus apps is even lower. This obviously means that there's a glut for quality S Pen apps (other than the excellent, built-in ones), and so we felt compelled to go for a dig and see what's available out there. The results of our excavation are lined up below for your consideration. Pretty much all of these will work with the S Pen stylus of the Galaxy Note, Galaxy Note II, Galaxy Note 3, Galaxy Note 3 Neo, Galaxy Note 8.0, 10.1, and NotePro 12.1.
While at it, if you happen to be thinking of picking the Note 4 (or even older models, like the Galaxy S5), you should also know that Samsung is throwing quite a few gifts your way. Those typically come in the form of free subscriptions to premium services, and a few are actually quite nice to have. For a detailed break-down, make sure you make it to the end of the slideshow.