The best new apps for iPhone and Android, September 2018
1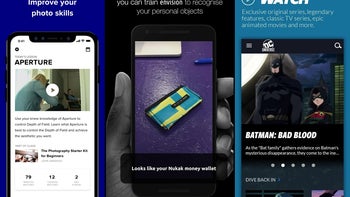 Another month is over and Summer is almost gone. Well, that's sad, but hey — at least we have a gazillion new apps on the App Store and Play Store. There's bound to be some good ones, right? As we do each month, we combed through whatever notable offerings we could get our hands on and picked out some of the best new apps that you should check out, either because they are useful, fun, or just plain interesting to see.
So, this month, we have some cool new utility apps for Android, a chat app for iOS, which lets you debate people with opinions that are opposite to yours, a couple of new musician-oriented apps, and more. Check them out below!
Entertainment
DailyFocus
(
iOS
) helps you improve on your photography skills with tips and tricks and daily missions.
The Scoremaster
(
iOS
) is an app specifically designed to help you track scores when playing board or card games — it's meant as a replacement to the good old pen and paper.
OneCast
(
iOS
) lets you remote-play on your Xbox One console. You still need to be connected to your home WiFi, but at least you can be in any room or at least off the TV.
DC Universe
(
Android
) lets you buy and read DC comics, watch TV series, and connect with DC fans worldwide.
AR Stickers: Stranger Things
(
Android
) and
The Last Jedi
(
Android
) are augmented reality apps that let you place virtual avatars from the respective movie franchises into the real world as seen in your viewfinder.
Social
Indivius
(
iOS
) lets you debate people on all those "hard" political topics that we all have strong opinions about. Instead of living in an echo chamber, this app allows us the chance to have a talk with someone "on the other side" of things.
Pro Analytics
(
iOS
) gives you quick insights about your Instagram account without diving too deep into things. You can see your most popular photos, your biggest fans, who has followed you and who hasn't, and your channel's growth chart. Basic, but completely free.
Poppinz
(
iOS
|
Android
)is a calendar app that lets you easily organize, schedule, and track family events. To avoid swapping between different calendar apps, Poppinz also has a "personal" page for your own agenda.
Health and assistance
Pinto
(
iOS
) helps you find a nutritional plan that fits your personal needs, then track your diet.
FoodVision
(
iOS
) is an AI app, which uses the camera to recognize the food you put in front of it and give you its nutritional data.
Envision AI
(
Android
) is an app for the visually impaired. Its purpose is to read out menu cards and signs, recognize items in the store aisles, recognize people, and more.
Digital Wellbeing
(
Android
) is Google's app that helps you track your phone usage. It's in beta now and, sadly, only available to users with Android 9 Pie.
Utility
Cinder
(
iOS
) lets you clean up your contacts real fast. It presents them in the form of Tinder cards — swipe left and swipe right as you please. You can double-check the discarded contacts before finalizing the deletion.
HiHello
(
Android
) lets you make a digital business card real fast. Want to share it? You show your on-screen QR code to the other person and all they need to do is scan it with their phone.
Power Shade
(
Android
) lets you make a custom notifications shade — edit colors, transparency, and layout. It also has a very flat, stock look to it, which is nice if you happen to have a heavily skinned Android and want to try the simpler side.
Shorty
(
Android
) lets you put a shortcut to absolutely any file or URL straight on your homescreen for easy access.
Pixel
Shortcuts lets you put shortcuts to all the apps that don't have their own icons on your Android phone. For example, your stock launcher or Digital Wellbeing.
Music tools
AudioLayer
(
iOS
) is a pretty cool sample grabber and sound designer tool.
Ribn
(
iOS
) is a programmable MIDI controller that can record and replay your finger taps and slides on the app's sliders. The point is to get organic and complex transitions without spending too much time on the Expression tool (for example).
Beat Maker Pro
(
Android
) is a drumpad app that lets you mix and match samples into full songs. New sounds to be delivered every week to Pro subscribers.