As Nokia's share price goes up, lawsuit against the company goes down
10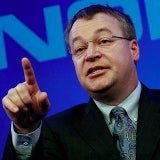 Nokia has been under legal attack by one of its investors, Robert Chmielinksi, since more than half a year, but the company can now breathe a bit more easily, as Chmielinski has dropped all charges.
The shareholder was accusing Nokia CEO, Stephen Elop, of overstating the awesomeness of the Windows Phone 7 operating system and Nokia's initial line-up with the platform. In addition, Chmielinski claimed that CEO Stephen Elop and CFO Timo Ihamuotila have lied about Lumia sales figures. Because of this, the investor decided to seek some compensation through court.
However, it now turns out that the investor is no longer suing Nokia, as he has dropped all charges for an unknown reason. Some unofficial sources speculate that this may have something to do with Nokia's significant share price rise over the last month. Or who knows, the guy might have finally embraced Windows Phone!
via:
WMPoweruser