Another confirmation of the HTC Hero
1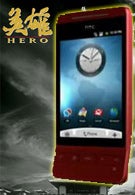 HTC
is one of the best smartphone manufacturers, while Android, the operating system itself still remains a hot topic (despite the appearance of the
Palm Pre
and the iPhone 3G S). It looks logical that new information on Android-based, HTC devices will hold media attention. Now, to the breaking news.
Global Certification Forum
(GCF) have approved a device, called the HERO100. Most probably, this is the HTC Hero that has been much talked about as of lately. A commercial has also been rolled out, revealing the new "Rosie" interface and color varieties the phone will come in. Unfortunately, the only information available through GCF is that the device is four-band GSM, dual-band 3G (1800/2100 MHz). Will it be really running the Google´s OS? It seems we will have to wait until 24 June, when HTC is expected to officially announce the HTC Hero at their London event.
Source:
The Unwired