Analyst sees Apple selling 30 million iPhones in Q4, 111 million in 2012
34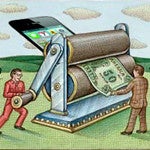 Analysts
hate to be wrong
, so they employ a great strategy – change your prediction whenever you get more information to go on! That's what Susquehanna's Jeff Fidacaro has done, increasing his estimate of the number of iPhones that will be sold this quarter to a whopping 30.3 million units. That's a million iPhones sold every three days.
Fidacaro based his revised estimates on supply-chain checks and "positive sell-through data". In particular, he says that component supply constraints are starting to ease as the flooding in Thailand starts to subside.
Fidacaro also increased his estimate for next year's sales, predicting Apple will sell 111.4 million iPhones in 2012. Since Apple makes more money per phone than any other manufacturer, numbers like these ensure the team from Cupertino has a very merry holiday season indeed.
source:
All Things D