Additional images of the LG E900 surface showing off its WP7 love
0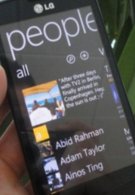 It's not the first time where we've seen an
actual LG E900 running in the flesh
flaunting Windows Phone 7 goodness, but this time around, we're receiving additional images that are a little bit more pleasing to look at. The latest set of images come to us courtesy of Danish web site TV2 where it appears as though they're quite satisfied with the handset – especially when their quick opinions about the handset were mostly positive.
Sure it may not the best looking Windows Phone 7 device from a design standpoint versus other handsets, but the main attraction with these shots are of course Windows Phone 7 running in its full glory and unadulterated. Surfacing once again, the
LG E900 is still pegged for a European launch
first with a hopeful migration to the US some time after that.
via
WMPoweruser