AUO to begin mass production of 4.3" qHD AMOLED panels this quarter, rumored for Sony smartphones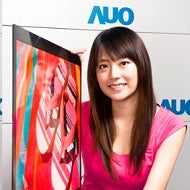 Samsung might be the largest OLED display maker, but it's not the only one. Seeing what competitive advantage the Koreans have before the competition by utilizing the thin and with high contrast screen technology, it was a matter of time before someone tried to replicate it.
What handset is this planned for remains a mystery, but we keep our hopes high we could see it in the
Mint flagship
, or maybe something totally out of whack that will be on shelves in times for the holiday shopping craze.