iHelicopters brings BMW, Audi miniature iPhone remote-controlled rides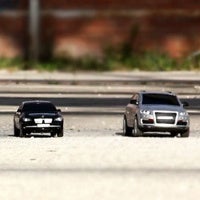 Craving for a luxury ride but don't have the money? Well, if you have an iPhone and a spare $60, you can now get a miniature remote-controlled BMW, Audi or others by iHelicopters.
You get to pick from an Audi Q7, BMW 5 F10, BMW X6 and Audi R8, which you then control directly from the iPhone, by plugging it a dedicated chip in the 3.5mm headset jack. The models are relatively small, with dimensions measuring 25.0 x 10.0 x 9.0 cm, and you only need three or four AAA 1.5V batteries.
A single charge allows you to take them for an hourly ride, and it also takes around an hour to recharge them. Not bad for an RC luxury ride, is it? Check out the video demonstration below.