Screenshots reveal more of WM7
This article contains unofficial information.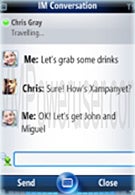 We are still waiting for the first phones running on the 6.5 version of Microsoft's mobile operating system, but this doesn't mean we cannot dream of what would be the real deal – Windows Mobile 7. It seems like we are having a lucky day, since three new screenshots of WM7 have surfaced. The images reveal the UI of the OS, including Microsoft's upcoming storefront, along with an
IM app
and a podcasts screen from the
Zune UI
, which we suspected we
would see in WinMo 7
. It seems like
Mobile Marketplace
will also provide access to other online services of the developer, apart from the numerous third party applications. Having that said, we certainly like the outlook of the future OS with that 'health bar'-like battery life and volume indicators.
source:
WMPoweruser