PayPal app for the iPhone is updated to fix security issues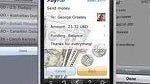 When it comes down to money and security, some people are quite cautious in dealing with transactions on their mobile phones due to security concerns. PayPal of course realized a security flaw found with their iPhone app and just updated it with a new version to address the problem.
Basically, the previous version did not verify the authenticity of PayPal's web site when users log in – which can possibly leave them vulnerable and open to attacks from hackers. PayPal spokeswoman Amanda Pires said, "To my knowledge [the flaw] has not affected anybody," However, PayPal did mention that they would reimburse any user if they happen to fall victim to fraudulent charges.
So if you haven't done so already, it's probably a wise decision to download the latest version of the PayPal app for the iPhone to keep you safe.
source:
Wall Street Journal
Recommended Stories