PM-8200 announced by Sprint PCS and Sanyo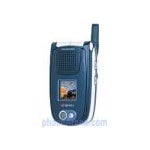 Today April 15, 2004 is the introduction of Sprint's tenth integrated camera phone, the Sprint PCS Vision Picture Phone PM-8200 by Sanyo. It sports camera with built-in flash and Sprint's nationwide walkie-talkie service, Sprint PCS Ready LinkSM. The Sanyo PCS Vision Picture Phone PM-8200 is new and improved version of the popular SCP-8100 by Sanyo. Other features include JAVA support, voice dialing and 32-voice polyphonic ringtones.


You can choose between three colors: red, silver and midnight blue. The phone's price in Sprint Stores is $129.99 after rebates (SRP: $279.99). Sprint PCS Ready Link gives customers a quick, convenient way to communicate one-on-one or with groups of up to five people with the simple push of a button. This is efficient and cost-effective way to quickly access co-workers, clients, suppliers, family and friends anywhere on the enhanced Sprint Nationwide PCS Network.