Look at these one of a kind wooden Samsung Galaxy S6 cases
4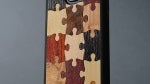 We have a soft spot for wooden cases, because they are so different and unique in look and feel! It's like they combine the best of everything - hard materials, classy looks, all-around protection, just all kinds of awesome, basically.
Not only are wooden cases exquisite, but it seems wood-chiselling artisans haven't lost any business from makers of more traditional plastic and rubber offerings. Elaborate hand-sculpted, naturally finished wood cases, complete with gorgeous engravings, are available aplenty for popular smartphones such as the Samsung Galaxy S6.
In fact, there are so many of them, different in style but matching in quality, that we don't have the means to publish them all! So be sure to check out every manufacturer's individual web page as you browse the slide-show, because each offers an amazing collection of cases.
Just click or tap the blue links and you'll be on your way!