Lizard shows off "Ant Crusher" chops on an Android tablet
14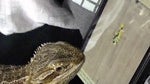 Just when you think you've seen every funny
animal
or
baby
video involving mobile devices, someone had to go and expand further into the animal kingdom. An owner wondered what how his bearded dragon would respond if shown the popular game Ant Smasher on an Android tablet. Perhaps not surprisingly, he wanted to eat those little virtual ants.
Since a lizard tongue will transmit a signal to the touchscreen every bit as well as your fingers, the lizard got to "play" the game, and in fact does rather well, although it would seem like the poor lizard might eventually suffer some cognitive dissonance at the lack of an actual meal resulting from all of his "hunting".
It's one of the more amusing videos you're likely to see today, so check it out. And let's hope that the lizard's owner gave him some crickets soon after.
source:
DailyMail