HTC North America: pumped about the Galaxy S4 reviews, as HTC One looks better
99+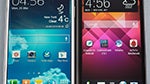 HTC North America president Mike Woodward is pretty pumped about the barrage of
Galaxy S4
reviews that got out recently, when the phone landed on US soil and carriers.
This might sound counterintuitive, but is quite understandable, given the median opinion of the combined reviews that the phone is a great upgrade over its predecessor, but not a revolutionary handset, unless we count its Full HD AMOLED screen, which is a first, and
the best mobile OLED display
so far.
Mike Woodward mentioned that some retail partners have already sold out the initial batch and issued the following comment:
It's really been a great week for us. We're seeing brisk sales so far. We look at [the Galaxy S4 reviews] through the lens of the HTC One, and it stands up positively. The design seems to be attracting the most attention and we're really proud of that.