Facebook app allows you to text message friends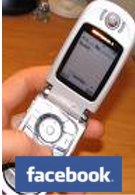 Update

February 04, 2009: Facebook's ChatToText service has been shut down due to term violation issues.
There is no denying the explosion of the amount of people signing up for Facebook. The giant social networking web site has implemented a lot of applications to provide subscribers some fun with their profiles. ChatToText is the first app for Facebook that allows your friends to chat with you through text messaging. This is great for anyone that does not want to incur text message costs if they do not have one attached to their cell phone account. You will be able to chat with anyone directly through the app and messages are displayed instantly. It even allows you to save your chat history so you can reference them later. It's another way we are seeing Facebook keeping people connected with one another.
source:
chattotext
via
cell phone digest